2 1 - 0 9 - 2 0 0 5
Dopingtest ziet 6-OXO 37 uur na laatste inname
De dopingautoriteit Wada houdt het supplementen-genie Pat Arnold goed in de gaten. Dat blijkt uit een publicatie in een vakblad voor chemische analisten. Belgische biochemici vertellen daarin dat ze voor de Wada een test hebben gemaakt voor Arnolds antioestrogene supplement 6-OXO.
Via het internet werden anabolen als (nor)androstenedione, (nor)androstenediol en dehydroepiandrosterone succesnummers van de supplementenindustrie, schrijven de Belgen. Via datzelfde medium brengen bedrijven nu 6-OXO aan de man. De Belgen analyseerden eerder het door Arnold uitgevonden 1-AD. Onderzoeksleider Frans Delbeke is bovendien een expert op het gebied van de EPO-test.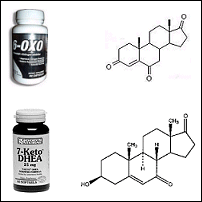 Eigenlijk heet 6-OXO androst-4-ene-3,6,17-trione. "It is produced by a company that has introduced several other anabolic steroids to the supplement market", schrijven de Belgen. 6-OXO is niet hetzelfde als 7-oxo- of 7-keto-DHEA, dat trouwens ook een antioestrogene werking zou hebben.
"Detection times depend on the administration protocols. In the first protocol, where the volunteer took only one capsule of the 6-OXO supplement for one day, 6-oxoandrostenedione and 6α-OH-testosterone were both detectable from 2 until 12 h post-administration and 6α-OH-androstenedione could be detected up to 29 h."
"In the second protocol, where three capsules were taken for three successive days according to the manufacturer's recommendations, 6-oxo-androstenedione and 6α-OH-testosterone remained detectable until 24 h after the last administration, while 6α-OH-androstenedione could be detected up to 37 h after the last intake."
De bijzondere interesse van de Wada voor de producten van Arnold heeft waarschijnlijk alles te maken met de Balco-affaire. Daarin bleek Arnold de vermoedelijke maker van designeranabolen als norboleton, THG en DMT [theguardian.com Wednesday 2 February 2005].
Biomed Chromatogr. 2005 Nov;19(9):689-95.