3 1 - 1 0 - 2 0 0 5
Superdrol, masteron en oxy komen uit hetzelfde nest
De onderzoekers die in de late jaren vijftig de anabole steroïden oxymetholone en drostanolone maakten, stuitten ook op de actieve stof in het inmiddels roemruchte supplement Superdrol. Dat blijkt uit een bescheiden literatuuronderzoek van Ergogenics.
Het Amerikaanse supplementenbedrijf Designer Supplements brengt Superdrol op de markt als een spierversterker waarmee je in drie weken tijd enkele kilo's spiermassa kunt winnen.
Het middel is, bezweren de advertorials, beduidend sterker dan de aloude prohormonen. Het onderstaande stukje, dat we snaaiden van muscle-talk.co.uk, is presesentatief voor wat je op het web aan reclames tegenkomt.
"Following the ban of most pro-hormonal substances in the States, including the likes of 1-test, 1-AD, 4-AD, M1T, etc, Designer Supplements designed this 'pro-hormone' based on the steroid Masteron, with an additional methyl group attached to the 17th carbon position. It is described as a cross over between anavar and masteron, with the virtual inability for aromatisation to estrogen. It is highly anabolic (400-800% more so than methyl-test) and a lot less androgenic (~20% of methyl-test)."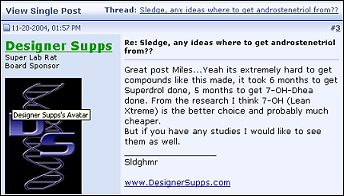 Dat Designer Supplements Superdrol heeft designed klopt niet. De actieve stof in Superdrol is voor het eerst gesynthetiseerd in de laboratoria van Syntex, in het midden van de jaren vijftig, samen met nog meer androgenen.
De chemici van Syntex vertelden in 1956, tijdens een congres van American Chemical Society, voor de eerste keer over hun project: het maken van een reeks anabolen, waaraan op het tweede koolstofatoom methylgroepen of hydroxymethyleengroepen hingen. Een paar daarvan, vertelden de Amerikanen, deden interessante dingen in proefdieren.
Pas in 1959 werd precies duidelijk wat de onderzoekers hadden gevonden, toen hun artikel verscheen in de Journal of the American Chemical Society.
In het stuk vertellen de onderzoekers hoe een versleutelde variant van DHT, die ze in het stuk IVb noemen maar officieel 2-hydroxymethylene- 17a-methylandrostan-17b-ol-3-one heet, hun aandacht had getrokken. De stof, die wij nu kennen als oxymetholone, had in ratten de groei van kankergezwellen vertraagd.
Toen de onderzoekers verder waren gaan knutselen, vonden ze nog twee veelbelovende stoffen: 2a- methyl-dihydro-testosterone, dat in het stuk IIa heet, en 2a,l7a- dimethyl-dihydro-testosterone alias compound IIb. De eerstgenoemde verbinding kennen we als drostanolone alias masteron, de tweede is de actieve stof in Superdrol.
In het artikel schrijven de Amerikanen dat ze de gevonden stoffen hebben uitgeprobeerd op ratten.
"As reported in our preliminary communication, a number of these compounds were found to be potent inhibitors of the development of a transplantable rat mammary tumor. This activity was particularly marked in the case of 2a-methyldihydrotestosterone (IIa) and 2a,17a-dimethyldihydrotestosterone (IIb), both compounds being more effective than testosterone or dihydrotestosterone."
"In the seven day anabolic-androgenic assay with 21-day old castrate male rats, subcutaneous route, 2a-methyl dihydrotestosterone propionate (IIa propionate) exhibited approximately 2 x the anabolic and 0.5X the androgenic activity of testosterone propionate, as measured by levator ani, prostate and seminal vesicle response."
"Unesterified 2a-methyldihydrotestosterone (IIa), 2a,17a-dimethyldihydrotestosterone (IIb) and 2-hydroxymethylene-17a-methyl dihydrotestosterone (IVb) were found in the experimental animal to be potent orally active anabolic agents exhibiting only relatively weak androgenic activity."
Anti-oestrogeen
De kankerremmende werking van de middelen is trouwens eigenlijk een anti-oestrogene. Volgens medische studies uit de jaren zeventig verlaagt drostanolone de natuurlijke aanmaak van estradiol, waardoor sommige tumoren minder snel groeien.
Het androgeen vertelt de hersenen dat er veel geslachtshormonen in het lichaam circuleren, waardoor de aanmaak van stuurhormonen als LH en FSH stopt, net als de afgifte van estradiol en testosteron door de geslachtsorganen. Omdat drostanolone zelf niet kan omzetten in estradiol daalt de estradiolspiegel.
Twijfel
Door Ergogenics geraadpleegde wetenschappers betwijfelen of Superdrol veilig is.
"Deze verbinding is nooit door de farmaceutische industrie gecommercialiseerd", vertelde een onderzoeker ons. "Daar zal de industrie heus wel een reden voor gehad hebben."
1. H. J. Ringold, and G. Rosenkranz. Communications - Steroids. LXXIII. Synthesis of 2-Methyl and 2,2-Dimethyl Hormone Analogs. J. Org. Chem.; 1956; 21(11) pp 1333 – 1335.
2. H. J. Ringold, E. Batres, O. Halpern, E. Kecoechea. Steroids. Methyl and 2-Hydroxymethylene-androstane Derivatives. J. Am. Chem. Soc.; 1959; 81 (2):427-432.